Black 5MP Active Deterrence Mini PTZ (4x Optical, LightHunter, Auto-Tracking)
Part of the UNV LightHunter range, this mini IP PTZ camera has 5MP resolution with an auto-focusing 4x optical zoom lens. Supporting Ultra265 compression, up to 50m of IR range and up to 10m of White Light. It features active deterrence by using strobing light, white light and pre-recorded messages. When the white light illuminates the area, the camera will go into colour mode to provide a clearer image, thanks to the LightHunter chipset; after the deterrence event has finished, the camera will return to black and white.
Alongside this, it also features a built-in speaker and microphone allowing for 2-way audio. It can also auto-track a person; using human body detection (this requires the camera to be in colour & light at night), to reduce false triggers from other moving objects or animals. Click on the Product Video tab to see the PTZ in action.
- Active Deterrence
- Red/blue strobing light
- Up to 10m White Light range
- Play pre-recorded messages
- Two-way audio (built-in microphone and speaker)
- Resolution 5MP (2880 x 1620), POE
- Motorised 2.8-12mm Lens, Angles 30.6° ~ 104.1° (H)
- Smart IR, Up To 50m IR Range
- Day/Night, IR Cut Filter, 3D DNR
- WDR, OSD, Triple Streams
- Privacy Mask, Motion Mask, ROI
- Supports H.264, H.265 or Ultra265
- Supports MicroSD card
- ONVIF Compliance (Profile G, S and T)
- Temperature Range -20°C to 60°C
- Wide voltage range of ±25%
- IP66 Rated
- 4kV surge protection
- Wall bracket included
Camera
Image Sensor:
LightHunter CMOS (1/2.8")
Effective Pixels (H x V):
2880 x 1620
Shutter Speed:
Auto/Manual, 1/1~1/100000s
Signal-to-noise Ratio:
>52dB
Back Light Compensation:
Via OSD Menu
Wide Dynamic Range:
120dB
Digital Noise Reduction:
2D/3D
White Balance:
Auto/Manual
Lens:
Motorised 2.8-12mm, 4x Optical
Field of View:
104.1°~ 30.6°
Scanning:
Progressive Scan
Onboard Recording:
Yes, to MicroSD card up to 256GB
Pan & Tilt
Pan Speed:
0.1°/s ~ 50°/s (Preset speed: 50°/s)
Tilt Speed:
0.1° ~ 40°/s (Preset speed: 40°/s)
Patrol:
Preset patrol, Route patrol
Day/Night
Day & Night:
IR Cut Filter (Smart IR)
Minimum Illumination:
Colour 0.003Lux, 0Lux with IR on
Network
Supported Protocols:
IPv4,IGMP,ICMP,ARP,TCP,UDP,DHCP, RTP,RTSP,RTCP,DNS,DDNS,NTP,FTP,UPnP,HTTP,HTTPS,SMTP,SSL
ONVIF:
Supports ONVIF (Profile G, Profile S, Profile T)
POE:
Yes (30W POE injector required)
Main Stream:
2880x1620@30fps
Sub Stream:
720x576@30fps
General
Power:
12V DC (+/- 25%) / PoE (IEEE802.3 at)
Power Consumption:
Max 18W
Operating Temperature:
-20°C ~ +60°C
Operating Humidity:
0% - 95% RH
All dimensions are in millimetres (mm)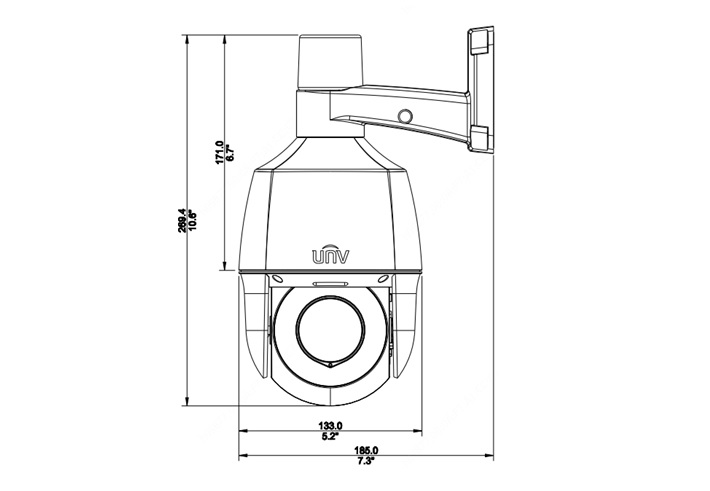 Different ways of mounting this camera: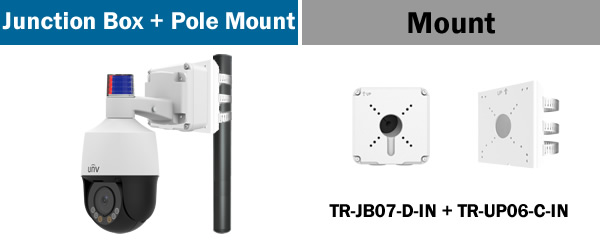 This camera has the following special features:
Active Deterrence
This PTZ camera can prevent intruders using the built-in strobing siren, white light, speaker or a combination of all 3. Using human body detection, it will avoid any false triggers from other moving objects or animals.
ANR (Automatic Network Replenishment)
ANR is a feature which allows a camera to record to an onboard MicroSD card, if it loses connection with the NVR. Once the connection has been re-established, the footage is transferred to the NVR. This feature requires ANR support from the camera and NVR.
Starview
Starview is the technology which allows for an outstanding image at super low illumination during the night for both static and moving scenes. This also means that the camera can display full colour at night. In technical terms, it enhances SN (signal-to-noise) by 17dB at 0.01 lux environment; this, in turn, increases both clarity and image colour at least 25% visually.
VCA (Video Content Analysis)
VCA is the ability to automatically analyse video to detect temporal and spatial events. This camera has the capability to do the following:
Intrusion Detection - Entering and loitering in a pre-defined virtual region
Human Body Detection - Ignoring any moving objects such as vehicles or animals, and only monitoring for humans
Motion Detection - Movement within a pre-defined virtual region
Auto Tracking - Tracking a specific target until it is out of range