Part of the Uniview Body Temperature series, the OET-213H-BTS1 is an access control terminal which integrates UNV face recognition technology and non-contact temperature detection technology. The digital temperature measurement module supports rapid body temperature detection. This versatile fever measurement terminal provides extra protection for establishments to minimize the spread of viruses. With most viruses, the human body has a fever to help fight off infection. This elevated body temperature is an early sign that the person is unwell. By monitoring each person that enters a premises, can help to detect and avoid the spread of viruses among colleagues and customers.
- Non-contact detection of wrist temperature, with a warning if abnormal body temperature is detected (measurement range is between 30°C to 45°C, measurement accuracy up to ±0.5°C)
- Support for body temperature detection and personnel information binding, which can quickly confirm personnel information and do body temperature detection
- Face recognition time of 0.2s
- UNV Deep learning algorithm allows for >99% face recognition accuracy rate (or >90% with a mask)
- Built-in deep learning dedicated chip, supports local offline recognition, 10,000 face capacity, face whitelist (1∶ N)
- Supports face, card, password and QR code authentication to open door, with anti-spoofing detection effective against photo or video
- Two-way audio with indoor monitor
- Updated voice (British English)
- Built-in 4GB storage, up to 8,000 events capacity (with images)
- Ideal for communal areas, schools, office buildings, hospitals, dentists and other crowded places
- Kit consists of the face recognition terminal, temperature measurement module and the floor-stand
All dimensions are in millimetres (mm)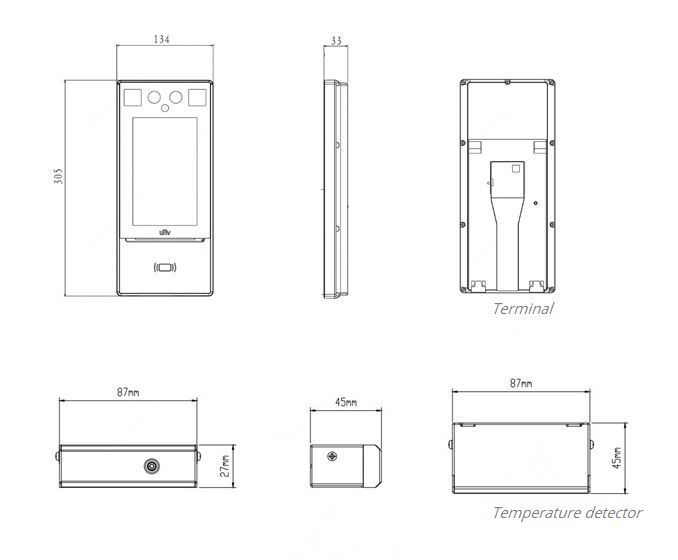 Click the link below to download a PDF copy of the product specification for the Uniview (UNV) Temperature Measurement Face Recognition Terminal

OET-213H-BTS1 Product Specification (PDF)
Click the link below to download the quick guide for the Uniview (UNV) Face Recognition Terminal

Quick guide for the Face Recognition Terminal (PDF)
Click the link below to download the quick guide for the Uniview (UNV) Temperature Measurement Module

Quick guide for the Temperature Measurement Module (PDF)
Click the link below to view and download our guides and manuals, including how to set up the mobile apps, using the CMS software and how to back up footage.